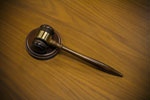 Woody has never lost an injury/death claim trial tried before a judge.
Woody has never lost an injury/death claim trial tried before a jury.
Woody has successfully tried and collected full judgment value plus interest, costs and expenses allowed by law, and has settled numerous injury and death claims exceeding $1m dollars.**
If you are searching for an attorney to help you with a personal injury in Shreveport or Bossier City, I would be pleased to offer my experience to help you get the outcome you expect and deserve.
He has presided over many injury and death claim trials as a district judge, where he was the "jury", and, over many such trials with a civil jury doing the "fact deciding". Most of these matters were complex injury and/or death claims, medical or nursing home malpractice cases and various other injury claims.
Woody's vast experience with these types of cases from his 20+ years of private practice before he was elected district judge enabled him to assist the civil division judges with their huge case load by trying many such cases as the presiding judge, even while efficiently managing his own full time family court docket. (He also presided over numerous criminal jury trials assisting the criminal division judges with their massive case load.)
He has settled hundreds and hundreds, possibly more than a thousand* injury claims, major and minor in his 37+ year career.
He has massive experience with the medical aspects of injury and death claims. This has been gleaned both from his prosecution work often involving forensic medicine re the cause of death, from his extensive experience representing both injured plaintiffs and defendant physicians in medical malpractice actions, and from his extensive experience in successfully handling major (and minor) injury claims.
His experience literally has involved injuries to the neck, back, arms, legs, knees, elbows, wrists, hands, feet, eyes, the senses of smell, taste and hearing, brain injuries, burns, injuries to internal organs, paralysis and multiple compound injuries, and more.
He enjoys a great relationship with many members of the medical community and staff members at LSU-HSC, treats physicians and medical personnel with respect, and, minimizes their "time" in each injury case thus gaining their cooperation and courtesies.
He has massive experience, both from his private practice and as a district judge, with the economic aspects of major injury claims and death claims having handled easily over a hundred matters involving the analysis and testimony of economists, CPAs and the like, regarding past and future lost income, loss of services, future medical expenses, "present day valuations", annuities, and other economic components associated with injury and death claims.
He has massive experience in functional capacity losses and disabilities stemming from injury cases, again, both as a lawyer, and, as a retired district judge.
His success in 60 or more felony jury trials as a prosecutor, hundreds and hundreds of judge trials, being successful in 23 of 23 murder prosecutions, every rape case, every case in which a child was a victim, every vehicular/negligent homicide case gives Woody Nesbitt massive experience in analyzing, organizing, presenting and trying a civil injury case if the matter cannot be settled or resolved in a mediation process.
He has massive experience in cases involving accident reconstruction and scientific based opinions by experts, both from his private practice, his prosecution experience, and, his experience as a district judge.
Woody is vastly experienced handling claims of every type, with injuries of every type, in cases where the injury is fortunately not "as serious" as many other cases he handles.
Woody's experience as a certified civil law/litigation mediator, his certified extensive and successful trial experience, his experience as a district judge, all combine  to give each client's case a great chance for resolution, at the appropriate time, outside of a courtroom, avoiding the risks, expense and delays that trials bring to any case.
Despite his documented massive trial successes, Woody tries to settle every case, but only if the settlement is proper and in the best interest of his client.
But if trial is unavoidable, few, if any lawyers in this region, have as much "in the courtroom" experience as Woody Nesbitt, and even fewer, if any, have been as successful. Not brag, just fact. It's documented over 37+ years of experience.
Last, Woody has been a "victim" of serious injury due to the negligence of another person. In 1988, Woody was competing in triathlons at a regional and national level. He was struck by an auto traveling around 45 m.p.h., from the rear, while on his road bike traveling around 22 m.p.h. The car won. The driver never noticed "the guy on a bike" on the far right of the road, riding to the right of the white line. Weeks of hospitalization, over a year of physical therapy, burn therapy, multiple fractures, 4 surgeries later, Woody competed in triathlons and long distance "extreme trail runs" after recovery from his injuries. He also rebuilt his private practice from which he was absent for over six months. Woody Nesbitt "relates" to those injured by others.
If you need a lawyer for an injury claim, major or minor, or a tragic death claim, please consider Woody Nesbitt.
Please visit all the other components of this website as you may find information you find pertinent to Woody's qualifications and experience to handle your personal injury or death claim.
*exact number of cases cannot be determined but these are conservative estimates based on closed files and other sources of cases handled
**such recoveries are rare, and, require life changing massive injury, death with large earnings losses for family members, liability of one or more parties with sufficient insurance coverage or liquid assets to satisfy such judgments